Any channel, one conversation
Cirrus omni-channel. However they choose to contact you, make it the best experience.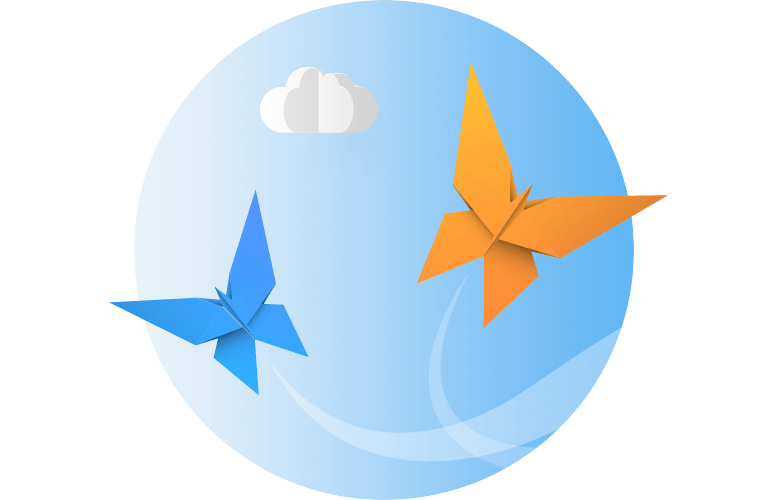 Connected conversations with a true omni-channel solution
Cirrus was built from the ground up to support all of the different ways your customers want to communicate to you, as well as those channels we haven't even thought of yet. We are constantly adding new channels, so you can launch new services as and when you need them.
Our omni-channel cloud contact centre solution integrates multiple communications channels into a single system so that agents can communicate with your customers or clients by phone call, email or instant messaging, and maintain a consistent record of all communications regardless of the format.
Your customers can effortlessly switch between channels without having to repeat or start over. Your agents have a single, easy to use application for managing interactions across all channels. You have powerful real time omni-channel monitoring and reporting to drive improvements. win, win, win.
Single view of the customer
Improve those all important "average handling time" and "first contact resolution" KPI's across the entire Contact Centre with Cirrus' "single view of the customer".
No more cross referencing multiple platforms or putting customers on hold for copious amounts of time. Agents have a full history of every interaction a customer has ever made in a single audit trail.
Multiple agents handling one query? Not a problem. With a holistic view of the customer history, agents are able to offer a more relevant and personalised experience to your customers by being able to work in a single joined up response.
Channel swap
Completely revolutionise the customer experience while improving operational efficiencies. With our omni-channel contact centre solution customers can switch their ongoing conversion from one channel to another, whilst retaining all the interactions and transcripts.
You control when channel shift occurs. Activate when certain queues are available, when a channel reaches a certain capacity or simply route customers to their preferred channel.
Experiencing high call queue volumes? Give customers the option to communicate with you over webchat or SMS. Having an issue handling a complex query on webchat? Shift the customer seamlessly to a phone call. It's that simple!
Voice excellence
Cirrus is famous for exceptional voice quality and reliability. Intuitive call controls ensure agents have everything they need to be quickly proficient in inbound and outbound calling, wherever they are working.
Our omni-channel solution also incorporates enterprise-class IVR, call routing (ACD) queuing and call back options, so you can deliver personalised, unique journeys for your callers based on the criteria you decide. This flexibility to design the solution around you and your customers needs is part of what makes Cirrus so unique.
Email made easy
No more chaotic shared mailboxes! Cirrus identifies, prioritises and routes emails to the correct team and enables agents to manage high volumes with ease.
With full formatting and media capabilities, canned responses, templates and ready access to a customer's interaction history and CRM information, agents have everything they need to quickly understand the customer's journey and personalize their experience. Advanced reporting capabilities allows supervisors to accurately track key KPIs around email performance, including average conversation closure times and average number of replies until resolution.
Chat and messaging
Facebook Messenger, Twitter DM, SMS, WhatsApp, webchat – however your customer wants to live chat, we can support it. Cirrus Messaging will deliver chats to your agents, with full customer engagement history, in one place alongside all the other channels you have chosen.
Webchat. Just a few lines of code on your website and you are ready to start chatting with customers! Cirrus Webchat can be customised to your brand, with predefined response templates to help agents stay consistent. Chat supports multiple queues and skills-based routing to ensure conversations are always delivered to the most relevant agent. And of course supports seamless channel shift should a chat need to change to a call.
Get social
People are sharing information about themselves, and more importantly about their experiences with organisations, both good and bad. Incorporate social media alongside your other channels to support and engage your customers on the social channels they use.
A good social media presence does wonders for brand perception. Be accessible and approachable by responding to questions and comments, which in turn can have a positive impact on sales and customer satisfaction.
Online reviews
Most organisations will have to deal with reviews, good and bad. Not responding at all, or very slowly gives the perception to the customer that you do not care, and to prospective customers that you are untrustworthy. And answering questions and requests can assist you to reach better ratings and convert sales. Incorporating online reviews into your contact centre operations ensures that you can track and respond quickly to your customers experiences.
Video
Video offers the unique opportunity to engage with customers in a highly personalised and collaborative way. When a personalised experience is needed or showing rather than telling will resolve issues quicker, agents can seamlessly initiate video-based conversations from any support channel.
whichever industry you are in video offers some impressive benefits including faster resolution time, reduced costs and a better customer experience.
Ready to take your technology and contact centre to the next level?
Cirrus contact centre is not only built by us, but also by our users. We listen to our users and integrate their feature requests on a regular basis. Why not get in touch and find out how Cirrus can help your business?