CSR at Cirrus
We consider ourselves to be very fortunate at Cirrus, which is why we've made it a core part of our culture to embrace Corporate Social Responsibility from our inception, to ensure we do business ethically and play our part in the community. In 2020, Cirrus won the CSR award at the Comms National Awards. This award recognises organisations that embrace CSR in a highly positive manner and has develop successful programmes to make the organisation socially accountable to itself, its stakeholders, its customers and the general public.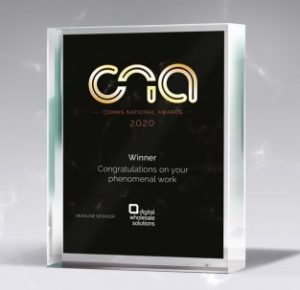 Environmental Impact
We take our responsibility to the environment seriously and are accredited by ISO 14001. This is an internationally agreed standard that sets out the requirements for an environmental management system. It helps organisations improve their environmental performance through more efficient use of resources and reduction of waste. Click here to read our sustainability policy.
Fundraising
As a team, we try to support as many charities as we can. Recently we raised money for Comic Relief to help support those who have been greatly impacted during COVID-19. To raise money we set goals which included staff dressing up and finishing early on a Friday. We also hold another great fundraiser every November where the male staff at Cirrus grow fashionable facial hair styles to raise money for the Movember Foundation.
Social Action Days
Here at Cirrus we know our staff are passionate about a range of causes. We offer a number of Social Action day to our staff so they can volunteer/fundraise for a charity of their choosing. Previously, staff have been using these days to help collect long-life items for Tesco's food drive and support FareShare, the UK's largest food redistribution charity.